Pandab Goenda Series Books By Sasthipada Chattopadhyay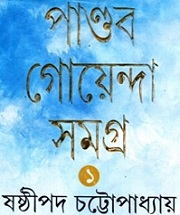 Pandab Goenda is a popular detective novel written by Sasthipada Chattopadhyay.
Sasthipada Chattopadhyay is a West Bengal writer. He was born in 1941 in Howrah. The writer loved adventure. He used to travel to different countries which helped him gain many experiences. His books also express his unique experiences. He became famous for his detective series "Pandab Goenda". He started writing Pandab series from 1981.
Pandab Goenda is based on five children who love solving mysteries. They are Bablu, Bilu, Bhombol, and two sisters named Bachchu, Bichchu. Pandab Goenda's main characters are inspired by Enid Blyton's famous detective book "The Famous Five". Pandab Goenda's first story was named "Pandab Goenda 1" and was published in 1981. After that, many books are published in the Pandab goenda series. These books will make children and teenagers fall in love with Bengali detective books.
Pandab Goenda Shomogro
1. Pandab Goenda Shomogro Volume 1
2. Pandab Goenda Shomogro Volume 2