Sheikh Ahmed Deedat (শেখ আহমেদ দীদাত) Bangla Book
Sheikh Ahmed Deedat is a world famous muslim speaker. He is popular for inter-religious debate between Islam and Christianity. He also published many books.
Islamic Foundation translated five of Ahmed Deedat's books and published them collectively in the book named "Ahmed Deedat Rochonaboli" (শেখ আহমেদ দীদাত রচনাবলী). Main topics of the book are Miracle of the Quran, Prophet Muhammad (PBUH) is the natural successor of Prophet Isa (PBUH), Prophet Muhammad (PBUH) mentioned in the Bible.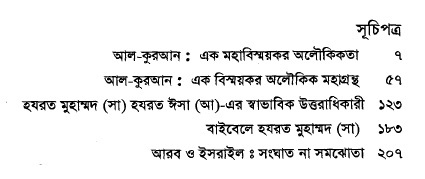 Sheikh Ahmed Deedat Book Link
1. Ahmed Deedat Rochonaboli (শেখ আহমেদ দীদাত রচনাবলী)
Book Courtesy: Banglakitab.com