Muhammed Zafar Iqbal Books (মুহম্মদ জাফর ইকবালের বই)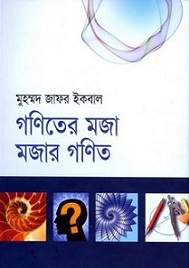 Muhammed Zafar Iqbal (মুহম্মদ জাফর ইকবাল) is a Bangladeshi author and physicist. He is also a computer science and engineering professor at Shahjalal University of Science and Technology.
He was born on December 23, 1952, in Sylhet. His father, Faizur Rahman Ahmed, was killed during the Bangladesh Liberation War. His mother's name is Ayesha Akhter Khatun. He spent his childhood in various parts of Bangladesh. In 1976, he graduated with a BSc in Physics from Dhaka University. He received his PhD from the University of Washington in 1982.
He worked as a post-doctoral researcher at the California Institute of Technology from 1983 to 1988 after receiving his PhD. He later worked as a research scientist for Bell Communications Research. He left the institute in 1994. He then returned to Bangladesh.
He primarily writes for children and adolescents. Most of his literature for children is quite well known. Some of his well-known works include "Kaabil Kohkafi," "Shanta Poribar," and "Dipu Number Two." He is one of the pioneers in Bengali science fiction. He wrote numerous works of science fiction. He authored an autobiography titled "Rongin Choshma". In addition to fiction, he wrote nonfiction on physics and mathematics..
He received numerous awards for his writing, including the Bangla Academy Award in 2004.
He was a founding member of the Bangladesh Mathematical Olympiad. He is now the Vice President of the Bangladesh Mathematical Olympiad Committee.
Here is a complete list of Muhammed Zafar Iqbal books : Wikipedia Muhammed Zafar Iqbal Bibliography
Story Books (গল্পের বই)
Download Story Books and Novels
Science Fiction Books (সায়েন্স ফিকশন)
Download All Science Fiction Books
Books on Math And Science (বিজ্ঞান ও গনিত বিষয়ক রচনা)
Dekha Alor Na Dekha Rup (দেখা আলোর না দেখা রূপ)
Neurone Onuronon (নিউরনে অণুরণন)
Neurone Abaro Onuronon (নিউরণে আবারো অণুরণন)
Bigyaner Eksho Mojar Khela (বিজ্ঞানের একশ মজার খেলা)
Goniter Moja Mojar Gonit (গণিতের মজা মজার গণিত)
Ektukhani Bigyan (একটুখানি বিজ্ঞান)
Theory Of Relativity (থিওরি অফ রিলেটিভিটি)
Quantum Mechanics (কোয়ান্টাম মেকানিক্স)
Aro Ektukhani Bigyan (আরো একটুখানি বিজ্ঞান)
Autobiography (আত্মজীবনী)
Other Books (অন্যান্য)
Adhunik Ishoper Golpo (আধুনিক ঈশপের গল্প)
Amar Boro Bhai Humayun Ahmed (আমার বড় ভাই হুমায়ূন আহমেদ)
Desher Baire Desh (দেশের বাইরে দেশ)
Ekta Vuter Golpo (একটা ভুতের গল্প)
Six Interesting Incidents (ছয়টি মজার ঘটনা)