Syed Mujtaba Ali Rachana Shomogro 11 Volumes
Syed Mujtaba Ali was a famous Bengali author, scholar and journalist. He was born in 1904 in Karimganj, Sylhet. He graduated from Visva-Bharati University in 1926. He earned his PhD from University of Bonn in 1932. He learned fifteen languages - French, German, Italian, Arabic, Urdu, Hindi, Sanskrit, Marathi and English etc. He joined Visva-Bharati University as professor of German language and Islamic Culture from 1956 to 1964.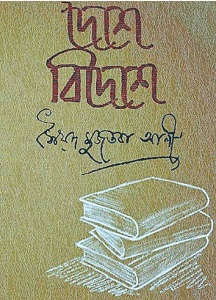 He was a pioneer of 'Ramya Rachana' in Bengali literature. His unique writing style became very popular among the people. Many of the stories were based on his life experiences. Among them were 'Deshe Bideshe' which was based on his experience in Kabul and 'Panchatantra' which was based on his experience in Europe, Cairo and Baroda.
He also worked as an activist. He supported Bengali as the national language of East Pakistan and wrote an essay, 'The State Language of East Pakistan'. He died in the year 1974 . He was awarded Ekushey Padak in 2005.
Syed Mujtaba Ali Shomogro
1. Syed Mujtaba Ali Rachanaboli 1 [File Size: 11.7MB]
2. Syed Mujtaba Ali Rachanaboli 2 [File Size: 11.9MB]
3. Syed Mujtaba Ali Rachanaboli 3 [File Size: 13.6MB]
4. Syed Mujtaba Ali Rachanaboli 4 [File Size: 17.7MB]
5. Syed Mujtaba Ali Rachanaboli 5 [File Size: 12.8MB]
6. Syed Mujtaba Ali Rachanaboli 6 [File Size: 10.4MB]
7. Syed Mujtaba Ali Rachanaboli 7 [File Size: 12.4MB]
8. Syed Mujtaba Ali Rachanaboli 8 [File Size: 15.9MB]
9. Syed Mujtaba Ali Rachanaboli 9 [File Size: 8.4MB]
10. Syed Mujtaba Ali Rachanaboli 10 [File Size: 11.6MB]
11. Syed Mujtaba Ali Rachanaboli 11 [File Size: 7.8MB]