Sukumar Ray (সুকুমার রায়) Books
Sukumar Ray (সুকুমার রায়) was a humorous poet and story writer. He was born in Calcutta, India on 30 October 1887. He was the son of children's story writer Upendrakishore Ray and the father of writer Satyajit Ray (writer of Feluda).
Sukumar Ray graduated with honours in physics and chemistry from the Presidency College in 1906. He learned photography and printing technology in England at the School of Photo-Engraving and Lithography, London. He was a pioneer of photography and lithography in India. He developed new methods of halftone blockmaking
Sukumar Ray wrote mainly for children. His most important works are "Pagla Dashu" (পাগলা দাশু), "Aboltabol" (আবোলতাবোল), "HaJaBaRaLa" (হযবরল) etc.
Sukumar Ray was also known as the convenor of "Monday Club" (মণ্ডা ক্লাব) where members expressed their opinions about the world.
Sukumar Ray died on 10 September 1923 of severe infectious fever "leishmaniasis" at the age of 35. He is still one of the most famous writers in Bengali.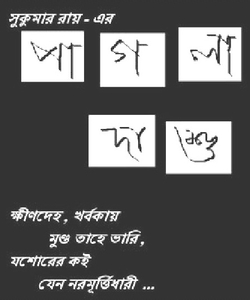 Sukumar Ray Books
3. হেশোরাম হুঁশিয়ারের ডায়েরি (Heshoram Hushiyarer Diary)
6. লক্ষণের শক্তিশেল (Lakkhaner Shoktishel)
8. এক ডজন সুকুমার (Ek Dojon Sukumar)
সুকুমার রায় সাহিত্য সমগ্র (Sukumar Ray Sahitya Somogro)
1. সুকুমার সাহিত্য সমগ্র ১ (Sukumar Sahitya Somogro 1)
2. সুকুমার সাহিত্য সমগ্র ২ (Sukumar Sahitya Somogro 2)
3. সুকুমার সাহিত্য সমগ্র ৩ (Sukumar Sahitya Somogro 3)