Professor Challenger By Arthur Conan Doyle Bangla Onubad
Sir Arthur Conan Doyle is prominent for his world known detective character Sherlock Holmes. However, he also wrote fantasy and science fiction books. His another famous fictional character creation is Professor Challenger.
Unlike Sherlock Holmes, Professor Challenger is hot-tempered and aggressive. His real name is George Edward Challenger. He explores several places with his sidekick and journalist of The Daily Gazette, Edward Malone.
Sir Arthur Conan Doyle created Professor Challenger based on two real persons. One of them is a professor of physiology named William Rutherford and the other, his friend explorer Percy Fawcett. He wrote three novels and two short stories based on Challenger. The most famous of them is novel "The Lost World". Other books are: The Poison Belt, The Land of Mist, When the World Screamed and The Disintegration Machine.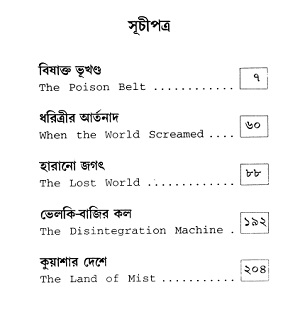 Professor Challenger Book Link
1. Professor Challenger Samagra [File Size: 38 MB]