Megastheniser Bharat Bibaran (মেগাস্থেনীসের ভারত বিবরণ) History Book By Rajani Kanta Guha
Megastheniser Bharat Bibaran (মেগাস্থেনীসের ভারত বিবরণ) is a historical book written by historian Megasthenes and translated into Bengali by Rajani Kanta Guha (রজনীকান্ত গুহ).
Megasthenes was an ancient Greek historian and explorer (350 – 290 B.C.). He visited India during the time of Chandragupta Maurya.
He wrote a book named Indika about India. It is an ancient history book about India. However, the original book is lost but some parts of the book survived. Bangla book Megatheniser Bharat Bibaran is a translation of that book. The book contains many interesting descriptions of the Indian subcontinent at that time.
It is a small book, only 64 pages.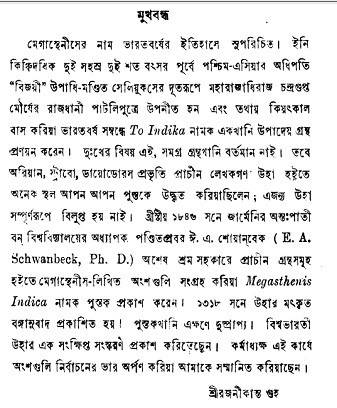 Megastheniser Bharat Bibaran (মেগাস্থেনীসের ভারত বিবরণ) Book Link
1. Megastheniser Bharat Bibaran