Kakababu Shomogro All Parts By Sunil Gangopadhyay
Kakababu (কাকাবাবু) is an adventure series written by Sunil Gangopadhyay (1934-2012). The first book of Kakababu series is "Bhoyonkor Sundor" which was published in the year 1979. Kakababu series has a total of 36 novels.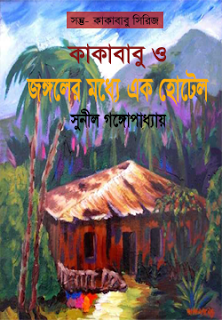 The main character of kakababu series is kakababu who is handicapped. His real name is Raja Roychowdhury. He lost his leg in an accident. Although he lost his leg, still he is very strong mentally and physically. He is very good at shooting and swimming. He solves crime cases and travels to different parts of the world with his nephew Shontu.
Shontu is the nephew and companion of Kakababu in his adventures. His real name is Sunanda Roychowdhury. He is very intelligent and excellent in athletic skills.
Kakababu Series All 7 Volumes
1. Kakababu Shomogro Part-1 [File Size: 21.3 MB]
2. Kakababu Shomogro Part-2 [File Size: 23.2 MB]
3. Kakababu Shomogro Part-3 [File Size: 33.7 MB]
4. Kakababu Shomogro Part-4 [File Size: 20.4 MB]
5. Kakababu Shomogro Part-5 [File Size: 19.4 MB]
6. Kakababu Shomogro Part-6 [File Size: 20.1 MB]
7. Kakababu Shomogro Part-7 [File Size: 24.3 MB]