Humayun Ahmed Horror Books (ভৌতিক গল্প)
Humayun Ahmed is one of the most famous Bengali writers of all time. He wrote more than two hundred novels, stories, science fiction, horror and mysterious stories. In this article, we have collected some of his horror and mysterious stories.
"Megher Opor Bari" is a mysterious novel about a physics professor who died in a hospital. Later, he found that he can still understand and see everything but he can't speak. Police suspected his wife Rubina as his killer but he knew that his wife was innocent. "Rakkhos Khokkhos Ebong Bhokkhos" is a funny horror novel for children.
"Adbhut Shob Golpo" and "Nirbachito Bhuter Golpo" are collections of horror and mysterious stories written by Humayun Ahmed.
In the book "Amar Priyo Bhoutik Golpo", Humayun Ahmed collected his favourite horror stories from famous Bengali writers such as "Nishithe" by Rabindranath Tagore , "Taranath Tantriker Golpo" by Bibhutibhushan Bandyopadhyay etc. In that book, you can also read two horror stories written by Humayun Ahmed named "Bhoy" and "Ayna".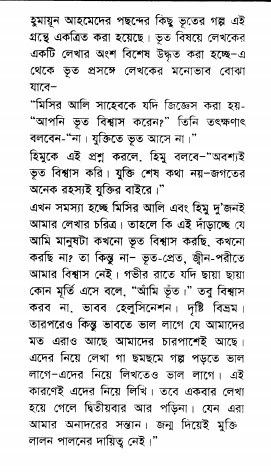 Humayun Ahmed Horror Stories (ভৌতিক গল্প)
File Size: 0.90 MB
2. Rakkhos Khokkhos Ebong Bhokkhos ( রাক্ষস খোক্কস এবং ভোক্কস )
File Size: 5.82 MB
Humayun Ahmed Horror Story Collections (ভৌতিক গল্প সংকলন)
File Size: 7.35 MB
File Size: 11.1 MB
File Size: 7.50 MB