H. G. Wells Books Bangla Onubad
H. G. Wells is an English science fiction writer, also considered as one of the "Father of Science Fiction". His most famous books are "The Time Machine" and "The War Of The Worlds".
He was born in 1866 in United Kingdom. His full name is Herbert George Wells. He had an accident at the age of 7. He read many books at that time which inspired him to become a writer later.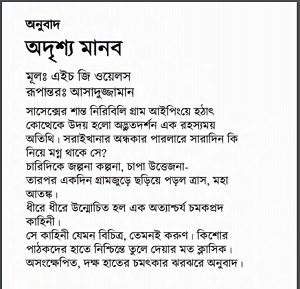 In 1895, Wells published one of his all time famous book "The Time Machine". This book is about a scientist who created a time travel machine. Then he traveled through past and future times and met people of those times. This book is a masterpiece in the history of science fiction.
His other famous science fiction works include "The Island of Doctor Moreau", "The Invisible Man" and "The War Of The Worlds". He also wrote many non-fictions. He helped us to have a vision of our future generations. He died in 1946.
H. G. Wells Books Link
1. The Time Machine (দ্য টাইম মেশিন)
2. Adrissho Manob (অদৃশ্য মানব)
3. The War of the Worlds (দ্য ওয়ার অফ দ্য ওয়ার্ল্ডস)
4. Prithibir Songkhipto Itihash (পৃথিবীর সংক্ষিপ্ত ইতিহাস)