Amphibian Man By Alexander Belyaev Bangla Onubad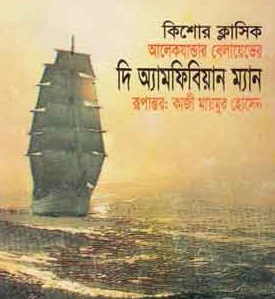 Amphibian Man is a science fiction book written by Alexander Belyaev.
Alexander Belyaev is a science fiction writer from Soviet Russia (1884-1942). His best-known works are: Professor Dowell's Head, Amphibian Man, Ariel and The Air Seller.
Book Description:
Pedro Surita is a pearl gatherer. He learns about an ocean creature of 'La Plata Bay' which haunts fishermen. They call it 'The Sea Devil'. He tries to capture the sea devil and discovers its secret. 'The Sea Devil' is actually the son of Argentinean doctor Salvator. He gives his son Ichthyander a life-saving transplant which changes him to a sea creature.
Book Link
1. The Amphibian Man (দি অ্যামফিবিয়ান ম্যান)