বাইবেল কোরআন ও বিজ্ঞান - মরিস বুকাইলি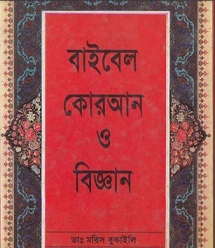 Bible Quran And Science is a world-famous book written by Maurice Bucaille. Maurice Bucaille is a French medical doctor, member of the French Society of Egyptology and an author.
In this book, he compares between the Bible and the Quran with modern scientific facts. He proves, how from the very first page, Bible contains scientific errors. For example, the creation of the earth before the creation of the sun. He also discusses many other scientific errors and contradictions. For the discussion, he has taken both Bible old and new versions. He also discusses why we find errors in the Bible. Bible was written by different authors. So, there are many conflicts between verses of the Bible.
In the second part of the book, he discusses scientific miracles in the Quran. For example, the Quran described big bang theory that the heavens and the earth were together. He also discusses many other scientific facts in the Quran. This book became very popular among Muslims and other religious people. Many people accepted Islam after reading this book.
He became so renowned that from his name a new term emerged named "Bucailleism". It is a term used for the movement to relate modern science with religion especially of Islam. His other prominent work is "The origin of man".
Book Name: বাইবেল কোরআন ও বিজ্ঞান (The Bible, The Qur'an and Science)
Book Writer: মরিস বুকাইলি (Maurice Bucaille)
Book Pages: 239
Book Size: 22 MB
Book Links